I joined Hoof Bootique in January 2021 - when the chance came to join the team I jumped at it and the small team of three became four. I was looking for a complete change in my working life and doing something that really interested me had instant appeal. I already had experience of using hoof boots as I took my own pony's shoes off in 2013 and would never go back. Once you get into keeping your horse or pony barefoot, it almost becomes an obsession!
I already knew there was quite a large range of boots, having used the Easyboot Gloves and Cavallo Treks on my own boy, but I wasn't prepared for the wide array of boots and accessories that greeted me when I walked into the stock room!
One of the things I like most is all of the colours that are now available.
The ever popular Cavallo Trek is available in bright Green as well as the usual Black. Anything that gets you and your horse noticed when out and about is a great idea. Cavallo also does a sparkly Bling Entry Level Boot, ideal if taking part in a Christmas event. Your Minis can look extra cute in Bling, Unicorn Pink or Metallic Blue Cute Little Boots.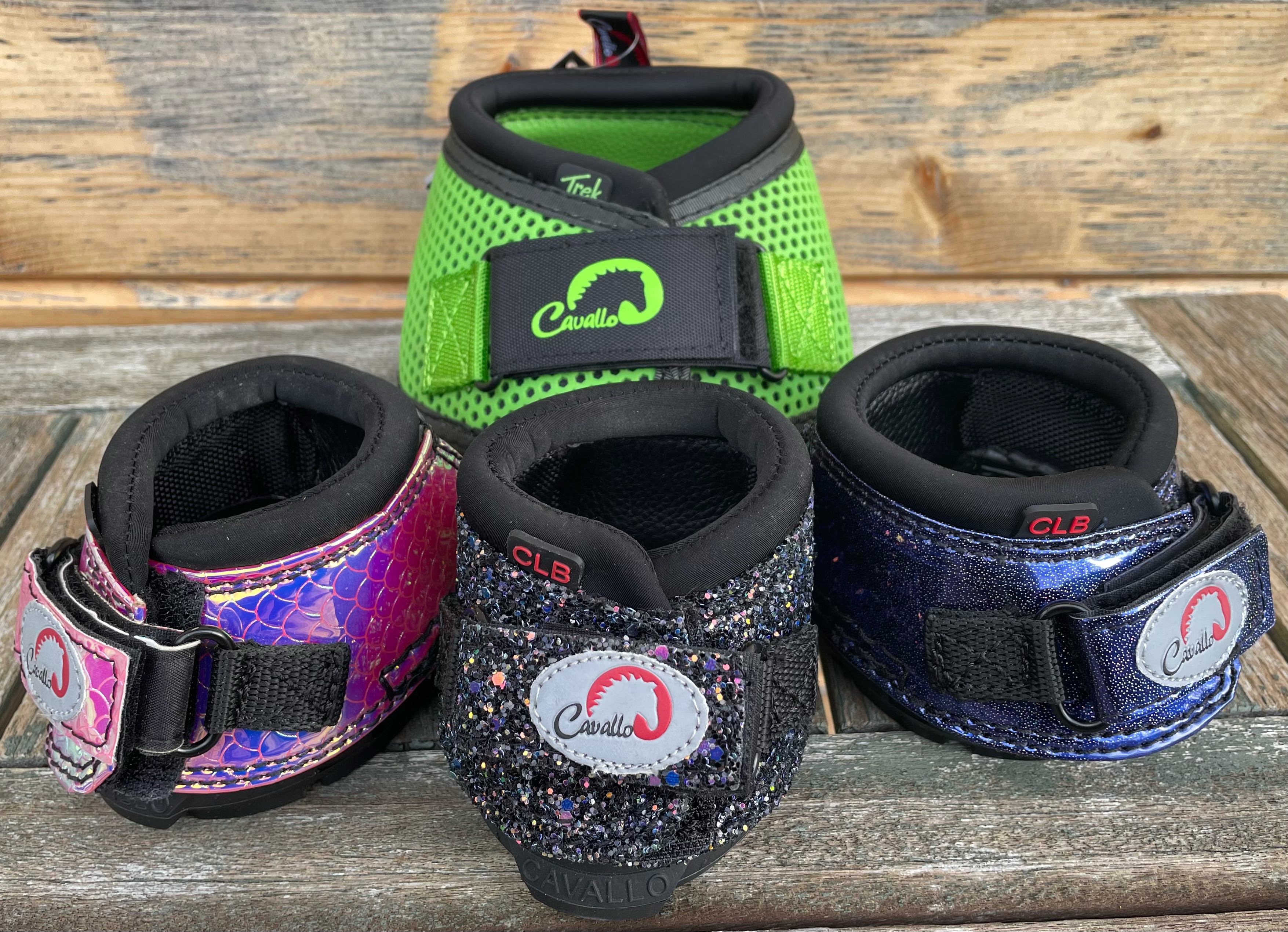 Renegade Vipers are another boot available to order in a selection of bright colours; Dragon Fire Red, Cosmic Orange, Emerald Green and Arizona Copper. The Renegade Classics have even more colours to choose from!
I'm loving the Special Edition Lemon from Swiss Galopper, such a gorgeous colour.
You can choose from a Yellow, Blue, Red, Pink, Orange or Green Frontal Piece in the Floating Boot range.
When I used the Easyboot Glove I was only aware of the Power Straps in Black but they come in lots of different colours too: Pink, Green, Purple, Red, Blue, Silver, White, Yellow and Orange.
In 2021, not long after I started, we added the popular Flex Boots to our range of boots. Made from a soft, flexible and lightweight rubber, they are extremely comfortable and neat. Flex boots are already available in a wide range of sizes but Flex are increasing their size range with boots going up in increments of 5 mm. We can also order custom fit boots from our suppliers with smaller or larger TPU gaiters. The neoprene gaiters (that sit inside the TPU gaiter part) come in nine lively colours, as well as Black, with colourful back straps to mix and match as you wish. How about the Green Neoprene Gaiters with Red Back Straps for a festive hack?!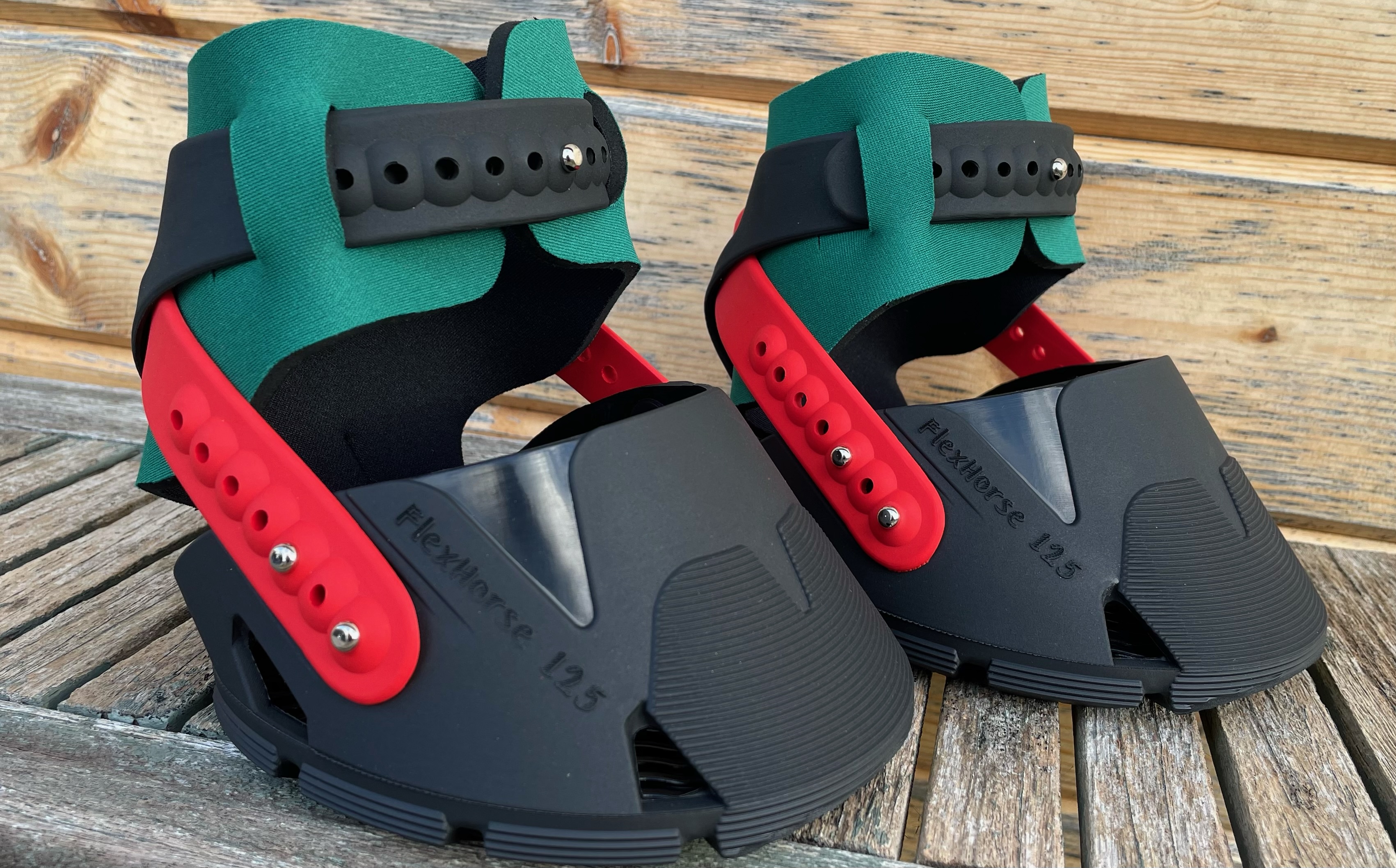 Evo Boot brought out their Premium 2021 boot with a new skin friendly neoprene heel bulb in a choice of five great colours. These colourful 2nd Skins can be purchased separately so you can pick one to suit your (or your horse's!) mood.
You can customise your Scoot Boots with coloured Pastern Straps and Front Straps. Look out for Scoot boot releasing some new colours for 2022!
More and more horse owners are discovering the benefits of keeping their horse barefoot and the hoof boot manufacturers are improving and extending their ranges all the time. It will never stop evolving, improving and expanding.
There are more hoof boot choices than ever which is both a help and a hindrance! We can help you choose the correct boot for your horse, getting the fit just right is the most important factor if the boots are to work. Often boots that on initial trial don't seem quite right can be tweaked using the accessories available.
I have learnt so much about boots and barefoot management in my first year with Liz, Laura and Gemma, and I'm keen to help more people to successfully keep their horses barefoot.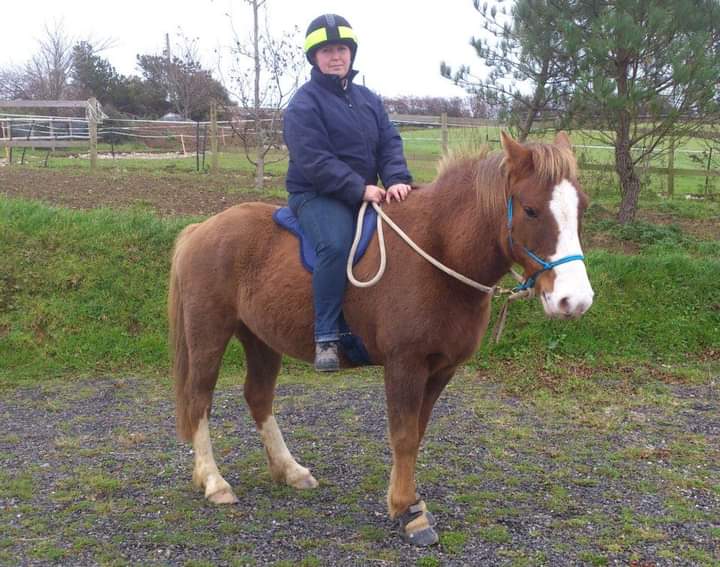 Sue & Gizmo (in his Easyboot Glove Soft hoof boots).